The Golf Women Mean Business Difference:
Collaboration over Competition:
We collaborate and discuss opportunities on the golf course that allow us to effectively compete in the business world.
Our Mission:
To enhance the overall competitive value of professionals through community service, professional development, golf training and networking opportunities.
We want you to be Proficient
Start getting your feet wet with some introductory golf knowledge. Take as many or as few classes as you like. Classes will be posted on the "Events" page when available.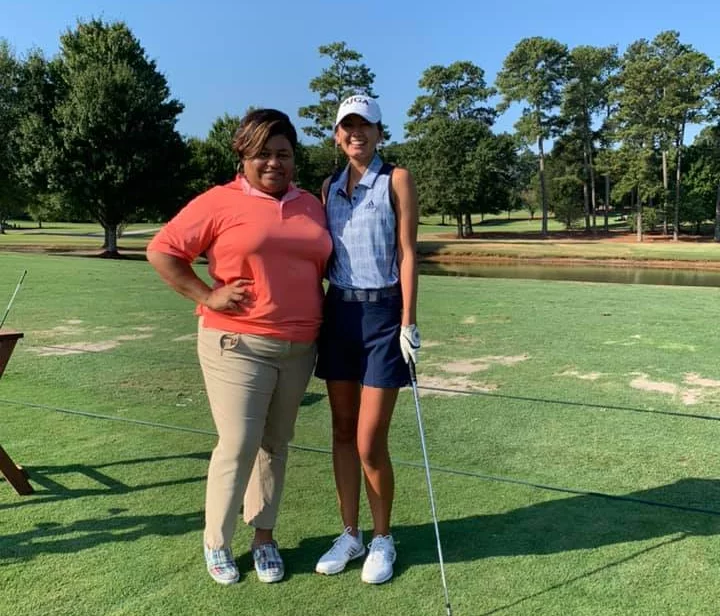 Passion is what drives us
Our business golf certification is more of an experience than a daunting "class"
Only available via Bootcamps and the Go Bigger Now Program
"Confidence is a byproduct of Competence" Patrina
Certifications are one of the most effective ways to connect with your peers and let them know that you have reached a new level of achievement. Certifications give your peers a little nudge to ask questions or include you in some of their conversations and activities, such as golf.
Unfortunately, women are rarely a consideration when it comes to planning golf outings with peers in the workplace. Furthermore, with the complex rules and regulations that come with the game of golf leaves many women uncertain about where to start.

This why we created the Business Golf Certification.

Becoming Business Golf certified shows that you have an understanding of how work professionals play golf. From building and implementing a strategy to growing your professional network, the it proves to your colleagues and your customers that you're able to join them for a round of golf AND lunch.
​
The Business Golf certification is more of an experience than a daunting "class". Just be sure to commit to learning the material and be willing to invest in yourself now and forever.
We respond within 24 hours
We answer all email and requests as they come in. If you have an urgent matter or would like to discuss training, please click the link below to give us a call.